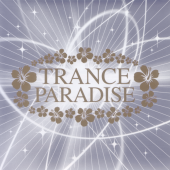 Trance Paradise
Release Date: 9/1/04
Price: 1900 yen
I remember when Trance Paradise was first announced, I had somehow thought it would be related to EMI's Happy Paradise eurobeat series. Alas, it wasn't to be, but we ended up with something just as special. The very first Trance Paradise release was a collaboration between Toshiba-EMI and FARM Records (both label logos appear in the booklet and spine). FARM had licensed Misa's "Banzai" a few months earlier for Mega Trance 01, so it's assumed that's how their working relationship began. There's a pretty heavy reliance on FARM's catalog in this first release, though EMI also draw a bit upon their All Around the World license to fill out the album.
The highlights of the CD, of course, were the newly produced Dancemania remixes. "Sky High" was a no-brainer since it had a lot of visibility due to DDR, but "Inspiration" seemingly came out of nowhere. Both remixes would end up being classics, which unfortunately also meant that they were licensed and repeated endlessly.
Another highlight for me was Oriental Space's epic "Umi no Mieru Machi (Magical Express)." With its galloping beats and faithful synth rendition of the original melody, it perfectly showcased the energy I would come to expect from epic trance.
Regarding Misa, for some very odd reason "Banzai" saw a resurgence as a trance classic around 2004, despite the fact that A) it had originally been released in 2000 and B) it's not trance. They even had to speed it up quite a bit for this release, so the vocals are noticeably pitched up. The newfound popularity of Misa would end up being one of the most pleasant surprises to come from Trance Paradise.
The remainder of the album isn't terribly memorable since a lot of the European-produced trance could be found elsewhere, and even the Japanese-produced songs were just repeats from other series. The true potential of Trance Paradise wouldn't be tapped until the sequel…
01. [3:25] Sky High (DJ Kaya Mix) / DJ Miko
02. [4:04] Heaven Is a Place on Earth (Extended Mix) / Julia
03. [4:15] The Summer Is Calling (Extended Mix) / Aquagen
04. [3:31] Giulia (DJ Lhasa Mix) / DJ Lhasa
05. [2:35] Disco Beat (Extended Beat Mix) / Shot
06. [3:06] Banzai (Apogeous Extended) / Misa
07. [2:34] Someday (Future Breeze vs. Junkfood Junkies Mix) / 4 Clubbers
08. [4:08] Umi no Mierumachi [Magical Express] (Oriental Space Mix) / Oriental Space
09. [3:19] Full Intention (Club Mix) / Megara vs. DJ Lee
10. [4:09] Running Again (Junkfood Junkies Remix) / De Boss vs. Super Sonic
11. [2:29] Attack da Dance Floor (Attack da Extended X-Over) / Supreme Dream Team
12. [3:09] Stella / DJ Kaya & DJ Kousuke
13. [4:05] Scorpion (Critical System Mix) / Oriental Space
14. [4:14] 7 Years & 50 Days (Cascade vs. Plazmatek Remix) / Groove Coverage
15. [4:49] I Wanna Dance with Somebody (Extended Version) / Flip & Fill
16. [3:53] Enola Gay (Original Extended Mix) / Mind-R
17. [4:24] Love Sunshine / DJ Tora a.k.a. Arpeggio
18. [4:59] Ultimate Seduction (Original Mix) / Drumroller
19. [2:57] S.P.A.M. / The House Negro
20. [5:32] Inspiration (Remo-Con vs. Toshio Ueki Remix) / Strike
Pre-order at CDJapan.