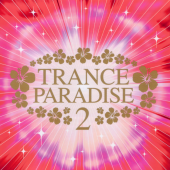 Trance Paradise
Release Date: 3/2/04
Price: 1886 yen
Now this is where things start to get interesting. Six months after the first Trance Paradise, the sequel dropped and changed everything. EMI ditched the FARM collaboration (though DJ U*Hey? would continue mixing most of the series) and commissioned loads of new tracks from Japanese artists, many of whom created new aliases for this release.
Whereas the Dancemania remixes ruled the first album, I couldn't help but be disappointed by the remixes here. The choice of "I Believe" to be given the remix treatment still puzzles me, and "Samba de Janeiro" received a much better trance remix years earlier (I want to say K-Groove did it, but I may be misremembering).
Where the album really shines is with the new output from Japanese producers. Shohei Matsumoto produced "Neraiuchi" under his new Dank-One identity, and it's easily my favorite with its random whistles and "Hadouken" samples. DJ Kousuke (a.k.a. Oriental Space), Remo-Con and DJ Kaya also produced new tracks.
The selection of European trance is also much better than the first TP. Cascada's best track ever is present, and I'm also quite fond of Mysterio's "Everlasting Love" cover. Notably, Almighty's appearances on this album would be the last on an EMI compilation for a while. And I don't care if "Halfway Around the World" isn't technically trance. It's an amazing remix and I could listen to it all day.
01. [4:32] I Believe (DJ Kaya Mix) / Wildside
02. [3:15] Halfway Around the World (Almighty Definitive Mix) / A*Teens
03. [4:17] Bad Boy (Club Mix) / Cascada
04. [3:10] Samba de Janeiro (Arpeggio Mix) / Bellini
05. [3:23] Coconuts / Oriental Space
06. [3:50] Spectacle (Original Mix) / Long-T
07. [3:35] The Energy / China Blue
08. [3:08] Get Your Thing Together (Original Mix) / Con-Mori
09. [4:26] Time for House (Original Mix) / Heavens Wire
10. [3:06] All Your Bass (Le Brisc Remix) / DJ V.I.R.U.S.
11. [3:31] Scratchism / Champion Burns
12. [3:43] The Louder / Drumroller
13. [4:05] Mayim Mayim / China Blue
14. [3:09] Neraiuchi / Dank-One
15. [3:49] The Sign (Club Mix) / Sven-R-G vs. Bass-T
16. [4:34] Everlasting Love 2005 (Extended Version) / Mysterio
17. [3:38] melody (Original Mix) / Long-T
18. [2:16] If I Were You (Hit Radio Mix XXL) / Candee Jay
19. [3:49] Close My Eyes / Astroline
20. [3:39] All Out of Love (Extended Mix) / The Foundation feat. Natalie Rossi
Bonus Track
21. [4:13] I Believe in Dreams (Full On Vocal Mix) / Jackie Rawe
Pre-order at CDJapan.