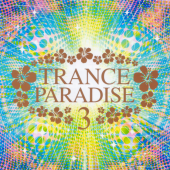 Trance Paradise 3
Release Date: 9/7/05
Price: 1886 yen
This is going to be long, so be patient. B-be-be-be patient! DJ Tora's instrumental cover of "Another Night" first appeared on Tokyo Rave 03 in 2004. I remember when I first heard it I thought, "This is amazing, but it would be perfection if they used Saifam's vocals." Lo and behold, my wish came true on Trance Paradise 3.
The second track, "Ki*Se*Ki," deserves recognition for having huge implications on the series and the Japanese trance movement in general. Billed as a "New Project," 4 Skips vs. Floorbreaker comprised Shohei Matsumoto (Heavens Wire) and Kazuhisa Hirota (Ace Closer, ZK). Their debut song, along with "Du-Du Di-Da," were referred to as "hime trance" (princess trance) on the front sticker and the back cover, so the seeds of the future series were already planted here.
The trend of including original Japanese-produced tracks continued, with brand new songs from DJ Kaya, DJ Kousuke, and Heavens Wire. The European-produced tracks were also once again present, with tracks from All Around the Wolrd artists like Flip & Fill and Aquagen. EMI would lose the AATW shortly after this release, which changed Trance Paradise for the better (while making Super Best Trance worse).
What was new to the series was the inclusion of Psychedelic Trance. Now, I like the occasional psyche track, but I was glad that the series never really returned to the genre.
I already mentioned "Another Night," but Trance Paradise 3 had quite a few other EMI remixes. I remember not being keen on DJ Ten and Ace Closer's take on "What's Up" initially, but it's grown on me over the years. I've always loved the Kuroro mix of "Forbidden Colors," however, even though I don't recall if it was ever revealed who did the remix. "Banzai" also finally deserved to appear on a trance album thanks to a new remix by Heavens Wire. That said, "Willy Use a Billy…Boy (Trance Remix)" was the biggest disappointment of the album. I was expecting an epic new remix by DJ Kaya or some other Japanese producer, but EMI being EMI, they just reused the existing 2003 remix. Of course, they more than made up for it with the next album in the series…
01. [4:32] Another Night (DJ Tora Vocal Mix) / Morgana
02. [3:37] KI*SE*KI* / 4 Skips vs. Floorbreaker
03. [2:02] Love U More (Loop Extended Mix) / Moova
04. [3:52] Craft Back / Sonic-R
05. [3:15] Chance / Peking-Duck
06. [4:27] God (Long-T 2005 Remix) / DJ Kaya
07. [3:47] Forbidden Colours (Kuroro Mix) / DJ Hush
08. [2:54] Signal / Long-T
09. [4:28] I Wish (Brutal Remix by Skazi) / Infected Mushroom
10. [3:22] Super Marihuano Bross (Teen Sluts Rmx) / Shove vs. Barak
11. [2:47] Would You Feel (Ziggy X Remix) / C-Bool
12. [3:03] Welcome Down / Malibu Pine
13. [2:49] Survivor / DJ U*Hey? vs. DJ Minagawa
14. [2:35] The Final Countdown (Club Mix) / Toscana
15. [3:22] Flower / Dank-One
16. [4:20] Everybody's Free (Extended Mix) / Aquagen
17. [3:20] Du-Du Di-Da (Extended Version) / Misa
18. [2:31] Willy Use a Billy…Boy (Trance Remix) / E-Rotic
19. [3:16] What's Up (DJ Ten + Spiral Dirt Remix) / DJ Miko
20. [3:52] Over Drive / NGO
21. [3:17] The Key, The Secret 2005 (Northstarz Club Mix) / Urban Cookie Collective
22. [2:38] Pray (Flip & Fill Remix) / Lasgo
Bonus Track
23. [3:19] Banzai (Dank-One vs. 4 Skips Rmx) / Misa
Pre-order at CDJapan.