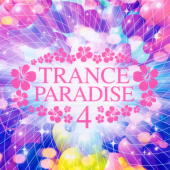 Trance Paradise 4
Release Date: 3/31/06
Price: 1886 yen
Hot on the heels of Hime Trance's success, Trance Paradise 4 marked a turning point for the main series, as it's the first to be almost all Japanese produced. Hime Trance's popularity meant 3 repeats from that album, but there were still an impressive 4 new EMI remixes. "Gasolina" is probably the most memorable of them all, since it's so unlike most of Delaction's other oeuvre. Misa's soccer-themed "So So" would also prove to be an instant classic, so much so that many of OHC's future remixes would try to mimic its sound.
The emphasis on Japanese trance that started with TP3 continued here with original productions from Delaction, Heavens Wire, DJ Tora, and DJ Kousuke. There's an entire section of J-trance that my friend jokingly called the "school section" since it reads like a list of school subjects. Also noteworthy are two licenses from Universal, "I Want You" and "Reason," that were both produced by DJ Kaya.
Pretty much the only missteps on the album are the awful Crazy Frog inspired "Axel F" (which is thankfully the shortest song on the album) and the bonus track, "Alabasta," which just sounds like noise to me.
01. [4:49] Can't Take My Eyes Off You (DJ Ten + Sol!d V!s!on Remix) / Beat Box
02. [4:05] Wookie Wookie (Overhead Champion Mix) / Machoman
03. [4:19] Butterfly (Delaction Remix) / Smile.dk
04. [4:31] Gasolina (Delaction Remix) / Danny Ray
05. [3:57] So So (Overhead Champion Mix) / Misa
06. [4:23] Fine Together (DJ Hibiki & Ken-Bow Mix) / Delaction
07. [4:34] K.O. (Fighting Spirits Mix) / DJ U*Hey?
08. [4:31] Canaria / Dratora
09. [3:11] Africa (Original Club Mix) / Dank-One
10. [2:37] Flashback (Original Club Mix) / Alphazone
11. [2:11] Religion / Caribbean
12. [3:40] History / Sculpture
13. [4:01] Free Radical (DJ Ken-Bow Mix) / Delaction
14. [3:45] D.O.U.B.T!!! ~Ai no Kakehiki wa DA*U*TO*~ / 4 Skips vs. Floorbreaker
15. [4:41] 60s / Arpeggio
16. [1:34] Nobody Knows… (Original Club Mix) / Dank-One
17. [1:18] Axel F (Extended Trance Mix) / DJ Smarty Pants
18. [2:59] I Want You / Long-T
19. [2:59] Reason / Lovers
20. [4:37] Moonlight Shadow (Nasca Joker's World Mix) / Missing Heart
Bonus Track
21. [3:29] Alabasta / Oriental Space
Pre-order at CDJapan.