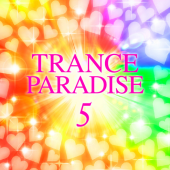 Trance Paradise 5
Release Date: 5/23/07
Price: 1886 yen
Now this is more like it! Trance Paradise 5 was about 8 months late, but it was a return to form after two awful releases (Cover Trance and Hostrance). EMI commissioned a lot of new songs for the release, including no less than 6 Dancemania remixes. My personal favorites were the Delaction remix of "Dub-I-Dub" (which made up for the ho-hum Dank-One remix on Hime Trance) and the amazingly epic Nasca Joker remix of "Beautiful Man." The resurgence of "Beautiful Man" was a truly perplexing thing. It had appeared once on Dancemania in 1999, and I remember always loving the song, so I was ecstatic when it reappeared on Dancemania Treasure, and even more excited when it got a brand new trance remix.
"Up," "Hung Up," "You Raise Me Up," (notice a trend?) and "Sky High" round out the new remixes. "Up" suffered from a lack of verses, but DJ Kaya and DJ Joker managed to infuse "Sky High" with more energy than the original DJ Kaya mix.
There were also 5 new Japanese originals from various DJs like Oriental Space and Heavens Wire. "Day Break" is the best of the bunch, somehow being both mellow and high-energy at the same time.
I do think that overall Trance Paradise 4 ended up being a more solid album, if only because TP5 had some unfortunate song choices when it came to licensed tracks. I was never a huge Handz Up fan, so the Cascada song was useless to me. And "Carlito (Cannon Cracker Remix)" is pretty lousy compared to Delaction's superior version.
01. [3:41] That's the Way (DJ Ten + Spiral Dirt Rmx Ver. 2.0) / X-Treme
02. [3:54] Carlito (Cannon Cracker Remix) / Spaghettini
03. [3:30] Up (DJ Ten + Spiral Dirt Remix) / TK
04. [4:57] Sky High (DJ Kaya vs. DJ Joker Project Nasca 07 Paradise Mix) / DJ Miko
05. [4:34] Saturday Love Affair (Friday Night Posse Remix) / Northern Heightz
06. [2:30] Get Up! / Dunhill
07. [3:02] Dub-I-Dub (Delaction Remix) / Me & My
08. [4:02] Love Again (Rob Mayth Remix) / Cascada
09. [3:00] Alexandrite / Paradise
10. [3:52] Sambaman / Aloha
11. [3:27] Hung Up (Orange Summer Rmx) / In.Deep
12. [5:10] Scream 4 the Fu*kin' Society / DJ Ten + Spiral Dirt
13. [3:28] Layla (Original Club Mix) / DJ U*Hey? vs. DJ Minagawa
14. [3:45] Summer Breeze (Original Club Mix) / Dank-One
15. [3:12] Beautiful Man (Nasca Joker's Paradise Mix) / Radiorama
16. [3:36] Listen to Your Heart (Nasca Joker's Harmony Mix) / D.H.T. feat. Edmée
17. [3:50] Day Break / Deep Impact
18. [4:08] sui-ren / kagura
19. [6:14] You Raise Me Up (Nasca Gold Medal Mix) / Interface
Bonus Track
20. [4:24] In My Heart (Dank-One Original Radio Edit) / Betty Blue feat. Tsukasa
Pre-order at CDJapan.