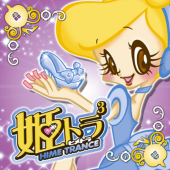 Hime Trance 3
Release Date: 8/22/07
Price: 1886 yen
Had EMI stuck to the original schedule, Hime Trance 3 should have been released in January of 2007. Instead, it was 7 months late thanks to Hostrance distractions. And unfortunately, the repeats that so heavily dominated Hostrance started to infect Hime Trance as well. There was only one new EMI remix here, a Shohei Matsumoto remix of "Natsu Monogatari." All of the other EMI songs were just repeats from Trance Paradise 5. But what really pissed me off was the inclusion of the original version of "Dam Dariram." I couldn't believe the balls they had to pretend it was anywhere close to trance.
And that's the big problem with Hime Trance 3: it wasn't all trance. For some bizarre reason there's a whole section of non-trance songs that just sound weirdly out of place. The worst offender (aside from the aforementioned "Dam Dariram") was the DJ Kaya dance remix of "Wake Up," which was really odd since there as already and incredible DJ Kaya trance remix of the song.
The album wasn't all doom and gloom, however. The new tracks from Japanese producers were fantastic, including the Middle-Eastern flavored "MAGICA" and the DJ Kousuke-produced "Friends." Sadly, "Friends" would be the last track he produced for Trance Paradise, and I think it was one of the last tracks he produced, period.
01. [2:31] Zankoku na Tenshi no These (Club Mix) / Diana Gross
02. [3:54] Prologue (Spacey vs. garamonn Remix) / Tsukasa
03. [3:56] Sa-Yo-Na-Ra (2007 album version) / Kei
04. [3:15] MA*GI*CA* ~Yume no Mahou wa MA*GI*CA*~ / 4 Skips vs. Floorbreaker
05. [4:03] Natsu Monogatari ~Summer Story~ (SP Show*Hey? vs. Big Kiss Remix) / Misa
06. [3:55] Everybody Happy (Vocal Version) / mint
07. [3:33] My Story / Miu*Miu
08. [5:28] Distance ~In Your Love~ / Misao Aoyama
09. [4:00] Magic* / Tiara
10. [3:42] Halfway Around the World (Almighty Definitive Mix) / A*Teens
11. [3:30] Wake Up (DJ Kaya Dance Remix) / Hilary Duff
12. [2:18] Believe Your Mind / mint
13. [3:46] Dam Dariram (Extended Mix) / Joga
14. [3:35] Friends / Love Scandals
15. [2:56] Weather News ~Haretara Ii na~ / Gavin feat. Aya
16. [3:11] Dub-I-Dub (Delaction Remix) / Me & My
17. [2:15] Up (DJ Ten + Spiral Dirt Remix) / TK
18. [2:59] Deep in My Heart (Dank-One Original Mix) / Betty Blue feat. Tsukasa
19. [4:47] Happy Days, Happy Times / Kei
20. [3:49] You Raise Me Up (Nasca Gold Medal Mix) / Interface
21. [2:49] Just Wanna Love You (S.T.F. remix) / DJ Kaya feat. Keen
Bonus Track
22. [3:57] Believe / Tamaki Nami
Pre-order at CDJapan.