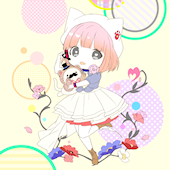 Din Don Dan
Artist: Mayumi Morinaga
Release Date: 2/4/15
Price: 2500 yen
Oh, wow, it feels like forever since Mayumi's last album. And, no, the MAYU releases don't count. This is part of Exit Tunes' Hyper RMX project, RMX being an acronym of Ryu*, Mayumi, and Xceon, three artists who have been quite prominent in the Bemani world. Exit Tunes are charging a premium for these albums, however, with each selling for 400 yen more than usual. Bonus items include a logo charm.
01. Din Don Dan (Extended Mix)
02. Tsumi to Batsu (Extended Mix)
03. Izayoi Setsuna (Extended Mix)
04. Realize Maze (Extended Mix)
05. Snow Crystal
06. Fly you to the star (Extended Mix)
07. It's my Miracle (Ryu* Mix)
08. Follow Tomorrow (Ryu* Mix)
Pre-order at CDJapan.