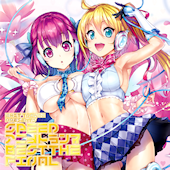 Exit Trance presents Speed Anime Trance Best The Final
Release Date: 1/7/15
Price: 2000 yen
Any hopes of SATB ending with a bang were dashed with the reveal of the final tracklist. There are 18 tracks in all, with 7 of those being random repeats ranging from the first SATB to bitter (!?), and even one from the most recent SATB, 22.
plazma gets the distinction of having the most new tracks with 2 arrangements. Hommarju, Mars, MK, Dizzi Mystica, and Flash back Dominant get one each. Icon also returns with a single new track after missing SATB 22. And for some reason the DJ Sa9 alias returns with a new track, even though it hasn't been seen since 2009's SATB 7.
Here's the curious thing: there are also two new artists, Motion Combat and Tsukemen Prince. So odd and random to introduce new producers instead of bringing back Ryu* or Starving Trancer for new tracks. I know Ryu* is busy with the new album, but to have 3 Ryu* tracks only for none of them to be new seems awfully cruel.
New tracks are highlighted in blue. Note that these appear to be track lengths for the full versions.

01. [4:35] Ignite / plazma feat. 405
02. [4:31] Skyreach / Hommarju feat. Yurie
03. [4:28] Kyoumei no True Force / Icon feat. Latte
04. [4:09] Tokyo Zero Hearts / Mars feat. R.Cena + Natsuhi
05. [4:56] Go Tight! / Ryu* feat. Maki (from SATB 3)
06. [6:07] Theme for Panty & Stocking / Hommarju feat. Yusuke (from SATB 12)
07. [4:48] Moving Soul / DJ Sa9 feat. Latte
08. [4:35] Lion / B.U.S. feat. Maki (from SATB 5)
09. [4:27] Kimi Ja Nakya Dame Mitai / MK feat. LTT
10. [4:55] Beyond the Time -Mebius no Sora o Koete- / Starving Trancer feat. hideki (from SATB bitter)
11. [5:28] Unravel / Dizzi Mystica feat. Yusuke
12. [4:50] Heavenly Blue / plazma feat. Yurie + MFMW
13. [4:10] Hana wa Odore ya Iroha ni Ho / Flash back Dominant feat. Neko Taishitsu + Yurie
14. [4:34] Hare Hare Yukai / Ryu* feat. Ma15 (from CSATB)
15. [4:13] Pitty Patty Survivored / Motion Combat feat. maburu-choko + Sayuri
16. [5:44] L?vest / Tsukemen Prince feat. LTT + Sakurai Saburou
17. [4:53] Connect / plazma feat. Nahoko (from SATB 13)
18. [4:17] Sore wa Bokutachi no Kiseki / Ryu* feat. prim (from SATB 22)
Pre-order at CDJapan.