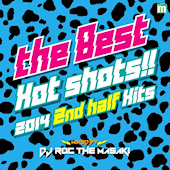 The Best Hot Shots!! -2014 2nd Half Hits- mixed by DJ Roc the Masaki
Release Date: 12/17/14
Price: 1500 yen
Sixth in the series of Tsutaya-exclusive compilations produced by Manhattan Records. All of the tracks are licensed from Power Music. You can listen to samples on Manhattan Records' web store.
01. Intro
02. Steal My Girl / Junior Torrey (Original by One Direction)
03. Rude (HumanJive Remix) / Junior Torrey (Original by Magic!)
04. Bang Bang (DJ Shocker Remix) / J Rae & Fringe (Original by Jessie J, Ariana Grande & Nicki Minaj)
05. All About That Bass (HumanJive Remix) / Paulette (Original by Meghan Trainor)
06. Fireball (Workout Remix) / Chani (Original by Pitbull)
07. NRG (Power Mix) / Power Music (Original by Duck Sauce)
08. Shot Me Down (DJ Shocker Remix) / DJ Shocker feat. Paulette (Original by David Guetta feat. Skylar Grey)
09. Delirious (Boneless) (Workout Remix) / Chani (Original by Steve Aoki, Chris Lake & Tujamo feat. Kid Ink)
10. Lovers on the Sun (Stereothief Remix) / Power Trip (Original by David Guetta)
11. Break Free (UK State Remix) / Fringe (Original by Ariana Grande feat. Zedd)
12. Take Me Home (DJ Shocker Remix) / Fringe (Original by Cash Cash feat. Bebe Rexha)
13. Heroes (We Could Be) (Stereothief Remix) / Paulette (Original by Alesso feat. Tove Lo)
14. Ten Feet Tall (DJ Shocker Remix) / d'Macy (Original by Afrojack feat. Wrabel)
15. Wasted (DJ Shocker Remix) / Julian Marshall (Original by Tiesto feat. Matthew Koma)
16. Ugly Heart (DJ Shocker Remix) / Paulette (Original by G. R. L.)
17. Really Don't Care (DJ Shocker Remix) / Fringe (Original by Demi Lovato feat. Cher Lloyd)
18. Shower (HumanJive Remix) / Paulette (Original by Becky G)
19. I Will Never Let You Down (DJ Shocker Remix) / Paulette (Original by Rita Ora)
20. Chandelier (DJ Shocker Remix) / Fringe (Original by Sia)
21. New Thang (Club Remix) / DJ Antos (Original by Redfoo)
22. Booyah / DJ Antos (Original by Showtek feat. We Are Loud ? Sonny Wilson)
23. Sing (Fitness Remix) / Dr. Pack (Original by Ed Sheeran)
24. Don't (Stereothief Remix) / Dr. Pack (Original by Ed Sheeran)
25. This Is How We Do (HumanJive Remix) / Paulette (Original by Katy Perry)
26. Show Me (DJ Shocker Remix) / Chani feat. Junior Torrey (Original by Kid Ink feat. Chris Brown)
27. Na Na (DJ Shocker Remix) / G. G. (Original by Trey Songz)
28. Don't Tell 'Em (DJ Shocker Remix) / Junior Torrey (Original by Jeremih)
29. Maps (HumanJive Remix) / Power Music (Original by Maroon 5)
30. In Your Arms (HumanJive Remix) / d'Macy (Original by Nico & Vinz)
31. All of Me (HumanJive Remix) / d'Macy (Original by John Legend)
32. Habits (Stay High) (Stereothief Remix) / Nicki Bliss (Original by Tove Lo)
33. Come Get It Bae (DJ Shocker Remix) / d'Macy (Original by Pharrell feat. Miley Cyrus)
34. Boom Clap (DJ Shocker Remix) / Paulette (Original by Charli XCX)
35. Shake It Off / Fringe (Original by Taylor Swift)