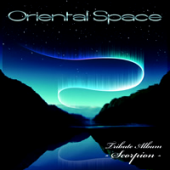 Oriental Space Tribute Album ~Scorpion~
Release Date: 6/18/08
Price: 2476 yen
As I mentioned on the forums, DJ Kousuke, a.k.a. Oriental Space, passed away on February 27, 2008. A tribute page can be found here.
On June 18, FARM will release a 2-disc tribute album in honor of DJ Kousuke, with the first disc tentatively featuring a nonstop mix of his best tracks. Disc 2 will feature an all-star lineup of Japan's top trance DJs taking on DJ Kousuke's greatest hits. The tentative track list for the second disc follows:
01. Magical Express (Heavens Wire vs. Drumroller Remix)
02. Kimi o Nosete (DJ Uto Remix)
03. Just Do It (DJ Kaya Remix)
04. Platinum (Overhead Champion Remix)
05. Alexandrite (DJ Tora Remix)
06. Yakuscha (DJ U*Hey? Remix)
07. All of Time (Delaction Remix)
08. Scorpion (DJ Ten Remix)
09. Last Ecstasy (DJ Ozawa Remix)
As I've mentioned, "Magical Express" has always been a sentimental favorite since it was the track that first got me in to Trance Rave. Heavens Wire also happens to be my favorite DJ, so to have him remixing it is a dream come true. The rest of the list looks solid as well, though hopefully the final list will also have Nasca Joker, DJ Yoshinori, Ryu*, and N.O.-SYO to complete the set of Japan's best DJs.