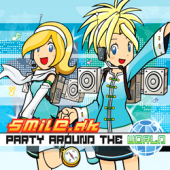 Party Around the World
Release Date: 9/9/08
Price: $12.99
A partial track list for Smile.dk's upcoming new album was recently unveiled on their official website. Samples of a few of the tracks are up at their official MySpace.
01. Doki Doki
02. Japanese Boy
03. Temptation Islands
04. Nothing's Missing (For Once in My Life)
05. Koko Soko
06. Summer Party
07. It's in Your Melody
08. Chick Tricks
09. Hummingbird
10. Paradise
11. Tomoe
12. Around the World
BONUS. ???????
I'm gonna guess that "Nothing's Missing" will be the album's requisite eurodance ballad 😛
Pre-order at Amazon or Target. No word yet on whether any Japanese label has picked the album up.