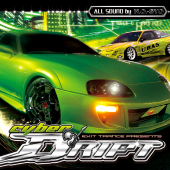 Exit Trance presents CyberDrift
Release Date: 8/20/08
Price: 1905 yen
A final track list has been announced for N.O.-SYO's upcoming album. Even I'm surprised by how many new tracks there are, though it remains to be seen if the new remixes will actually be new.
Judging by the track lengths, this will be a nonstop mix, but expect full-length versions to be up on iTunes. The final list after the jump.
Feel free to copy and paste the list elsewhere, but please include a link to this post.
01. [6:25] Forever (N.O.-SYO CyberDrift Rmx) / N.O.-SYO
02. [4:56] Identity / Mayumi Morinaga & N.O.-SYO
03. [4:39] Vertex-D -T & E Theme- / N.O.-SYO
04. [5:29] Drift of the Wind / Mayumi Morinaga & N.O.-SYO
05. [6:12] Gekkou II (N.O.-SYO CyberDrift Rmx) / Miya & N.O.-SYO
06. [4:06] Serenade for Strings (1st Movement) / N.O.-SYO
07. [4:52] Revelation (N.O.-SYO Remix) / Alphazone
08. [4:13] Evil Birds -Force Z Theme- / N.O.-SYO
09. [4:05] Koi wa Mizuiro / N.O.-SYO
10. [3:46] Hi no Tori (N.O.-SYO CyberDrift Rmx) / N.O.-SYO
11. [4:44] El-Dorado (N.O.-SYO CyberDrift Rmx) / N.O.-SYO
12. [4:52] Lucky Girl (N.O.-SYO Remix) / Miki Matsuzawa
13. [3:08] One Million Miles (N.O.-SYO CyberDrift Rmx) / Mayumi Morinaga & N.O.-SYO
14. [4:36] Caramelldansen (N.O.-SYO Remix) / Caramell
Pre-order at CDJapan