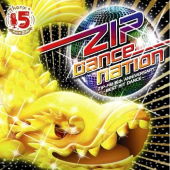 ZIP Dance Nation – ZIP FM 15th Anniversary ~Best Hit Dance~
Release Date: 9/17/08
Price: 2381 yen
It's an Avex release with the word "Best" in the title. You know what that means: NIGHT OF FIRE! Also included are "Caramelldansen" and a bunch of other overexposed songs, though Avex took mercy upon us and didn't put "Sousei no Aquarion" on. There are also a handful of new tracks, including a DJ Kaya feat. OHC remix, so it's not a complete waste.
Final track list after the jump.
01. [2:11] Love Shine a Light 2008 / DJ Hush feat. Katty B
02. [2:08] What's Up 2008 / DJ Miko
03. [1:30] Yesterday (Ovrar Dance Pop Mix) / Cherry
04. [2:20] You Are (Eric Kupper Remix) / Jazzin' Park
05. [1:27] Rise Over (Prog5 Big Room Remix) / Natsuyo Feat. Alexandra Prince
06. [1:35] Alive / Locktown & Alexandra Prince
07. [1:18] Shine (Extended T&F and Moltosugo Mix) / Booty Luv
08. [1:33] 40 Miles (Edit) / Cloudburst feat. Culture Girl
09. [2:10] Nothing but a Heartache (Club Mix) / Freemasons
10. [1:29] I'm in Heaven / Jason Nevins presents U.K.N.Y. feat. Holly James
11. [1:17] Just the Way You Are / Milky
12. [2:07] Star Line (House Nation Sunset in Ibiza Remix) / Genki Rockets
13. [1:48] And She Said… / Lucas Prata
14. [1:28] Standing in the Way of Control (Soulwax Nite Version) / The Gossip
15. [1:17] Raisa (Fly Extended) / Fly Project
16. [1:29] Sunshine in the Rain / BWO
17. [1:26] Chariots of Fire / BWO
18. [1:20] Dragostea Din Tei / O-Zone
19. [1:16] Dance! / Murphy Brown
20. [1:06] OPP -Japanese Dance- (Club Mix) /
21. [1:49] Get It On / Bus Stop
22. [1:33] Fast Food Song / Fast Food Rockers
23. [1:12] 5, 6, 7, 8 / Steps
24. [0:59] Can't Undo This!! / Sham-Poo feat. Yinling of Joytoy
25. [1:16] No Limit / 2 Unlimited
26. [1:24] The Real Thing / DJ Tora feat. Sean & Kim
27. [2:09] Tokyo, Go! (Sham-Poo Ura Tokio Mix) / John Robinson
28. [1:26] Ass Up! (DJ Ten Remix) / Baracuda
29. [1:12] Poison (Tune Up! Remix) / Groove Coverage
30. [1:16] Infected (Delaction Remix) / Barthezz
31. [1:50] Love You Tonight / DJ Kaya feat. Keen
32. [2:02] Eternity / Overhead Champion
33. [1:55] Muevelo (ZIP-FM Remix) / Los Super Reyes
34. [1:37] Ring Ding Part 2 (Delaction Remix) / Baby Chris
35. [1:07] Arrows /
36. [1:04] King Kong / Hinoi Teams
37. [1:14] Super Striker / Go 2
38. [1:11] Night of Fire / Niko
39. [1:19] Caramelldansen (Speedycake Remix) / Caramell
40. [1:14] Red Hot ZIP / Dave & Domino
41. [1:08] Click Your Heart / Alcazar
42. [1:37] Total Eclipse of the Heart / Nicki French
43. [1:27] Nothing's Gonna Change My Love for You / Jon Otis
44. [1:05] Santa Maria / Tatjana
45. [1:18] Let Me Love You / Da Buzz
46. [1:28] Wanna Be with Me? / Da Buzz
47. [1:34] Keep Love Together / Love to Infinity
48. [1:38] Spread Your Wings / System F
49. [1:42] Heaven / DJ Sammy
50. [3:00] Wait for You (DJ Kaya feat. Overhead Champion Remix) / Elliot Yamin
Pre-order at CDJapan