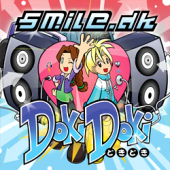 Samples are now up for the Doki Doki single:
http://www.smiledk-music.com/discography/single-dokidoki/
The Cyber Sister Euro Mix sounds promising, and "Butterfly" sounds fantastic with Malin!
The single will soon be available on digital download sites like iTunes and lala.com. Additionally, "Doki Doki (Panik Mix)" will be featured on Dance Dance Revolution Universe 3.