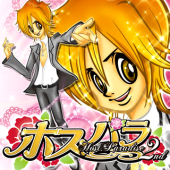 Host Para 2nd ~Host Paradise~
Release Date: 12/24/08
Price: 2838 yen
Host Para 2nd is yet another strange mixture of trance, house, reggae, euro, psychedelic, and hostalk. Did I enter some sort of time warp back to 2006? 'Cause that's the only possible explanation for this latest travesty in the Host Trance/Para series. It's particularly sad that some of the tracks predate the ones that appeared on the first Hostrance.
The bonus DVD will include a "How to Champagne Call" video as well as introductions to all 26 hosts.
CD
01. Merry Christmas, Mr. Lawrence (Drumroller Remix) / Olaf T. Linderman
02. Magical Express (Umi no Mierumachi) (Oriental Space Mix) / Oriental Space
03. Blue Sunshine (Original Mix) / Nish
04. Tubthumping (Everybody Handz Up in Japan Remix) / Hi-End Attack
05. Love Happy / Shibuya Trance Koujou Iinkai
06. I'm Still Waiting / Maaayo
07. I Love Your Smile (Ninja G Rmx) / Wayne Daniel
08. Sex on the Beach (SDT 2004 Mixz) / T-Spoon
09. Chupa Chupa / El Medico
10. Crazy in Love / 4 to the Rhythm
11. Closer / Ogiek
12. Because of You (Dance Music Company Remix) / Sid
13. TKO (Original Club Mix) / DJ U*Hey?
14. Eye of the Tiger [Film Rocky III] (Original Club Mix) / Texas Boys feat. Suck Man
15. Time to Get Serious / Dynamic feat. Eskimo
16. Lift Me Up (Final Vocal Rmx) / Sesto Sento
17. Others / Skazi
18. alpha (R Tech Edit) / mioco
19. In My Heart (Ovrar Euro Mix) / Tsukasa
20. Realize / Mari Ohta with Shujinko
21. Gake no Ue no Ponyo / Animeking feat. Caoli
Bonus Tracks
22. *Kabuki* ~Kira Kira Champagne Night~ / Age
23. Close to You / Billion marks
DVD
01. KO·I·U·TA / D.A.S.H
02. Craft Back / Sonic-R
03. TKO (Original Club Mix) / DJ U*Hey?
04. Scorpion (DJ Ten Remix) / Oriental Space
05. K.O. (Fighting Spirits Mix) / DJ U*Hey?
06. Warrior (Final Round Mix) / DJ U*Hey?
07. Grand Slam (Club Mix) / DJ U*Hey?
08. Survivor / DJ U*Hey? vs. DJ Minagawa
09. Stars (Original Club Mix) / DJ U*Hey?
Pre-order at CDJapan.