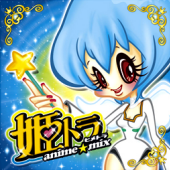 Hime Trance Anime*Mix
Release Date: 1/21/09
Price: 2171 yen
One new song from Tsukasa!
Two new songs from Kei!!
Two new songs from ari/Aya!!!
Two new songs from Chika!!!!
Two new songs from mint!!!!!
Gavin!!!!!!!!!!!!!!!!!!
As Kylie would put it, wa-wa-wa-WOW! The only Hime Trance queen missing is Misa!
There are, of course, some repeats. Six tracks are from previous releases in the Hime Trance series. EMI also chose to license one song from Quake's Speed Anime Trance Best series. Thankfully, it turns out to be one of the best: Florence's "Komm, susser Tod." Still, 7 old tracks out of 21 means that 2/3 of the album is brand new. That's the largest percentage of new tracks on a Dancemania/Trance Paradise album in quite some time.
I've also been informed by DJ Tomoe that the princess on the cover is modeled after Rei Ayanami from the Neon Genesis Evangelion series. Hooray for copyright infringement!
01. Gake no Ue no Ponyo / Gavin feat. Aya with Jagaimo Koushaku
02. Aozora no Namida / Delaction feat. Chika
03. Eternal Blaze / Tsukasa
04. Tamashii no Refrain / Overhead Champion feat. Mepomi.
05. Secret Ambition / Mina feat. mint
06. Zankoku na Tenshi no These / mint
07. Re-sublimity / DJ Hosaka feat. Mepomi.
08. Red fraction / CMS feat. mint
09. Sousei no Aquarion / Dank-One feat. ari
10. Happy*Material / Hinax
11. Ginga Tetsudou 999 / Tsukasa
12. Komm, susser Tod ~ Amaiki Shiyo, Kitare / Florence
13. God Knows… / Kei
14. Sorairo Days / Delaction feat. Chika
15. Datte Dai Honmei / ari
16. Shichiten Hakki*Shijou Shugi! / Delaction feat. Chika
17. Hare Hare Yukai / Redalice feat. Hinax
18. Iteza*Gogo Kuji Don't be late / B.R.G. feat. Missie
19. Realize / SP Show*Hey? feat. Ichiko
20. Joint / Kei
Bonus Track
21. Lion / Kei
First-press copies come with stickers.
Pre-order at CDJapan.