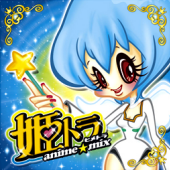 Hime Trance Anime*Mix!
Release Date: 1/21/09
Price: 2171 yen
Album of the year! Okay, it may be a tad early to make such a bold claim, but Hime Trance Anime*Mix! is at least the best trance release to come out of Japan in quite a while. Unlike the last 3 or so Hime Trance releases, Anime*Mix! has a very good ratio of new songs to old. And while there are a few repeats, almost all of them are exceptional and are worthy of being repeated. If you've soured on trance because of the constant repeats, then Anime*Mix may well reinvigorate your love of trance.
Anime*Mix! brings together some of the best trance producers Japan has to offer. Delaction and Dank-One once again bring their A-games, while newer artists such as Redalice and CMS help to add a dose of freshness. Unfortunately, the booklet is light on credits, so it's hard to tell who produced some of the tracks.
Not only does Anime*Mix! have a wide array of producers, but it also has an equally diverse set of vocal talent. Hinax and Mepomi are among the artists making their Hime Trance debuts. Meanwhile, Tsukasa and Kei, both reigning trance queens, return with awesome new material. The only "hime" missing is Misa. 🙁
Interestingly, while the first half of the album is a standard 145 BPM, the second half speeds up significantly. At first it goes to 150, but soon reaches around 165 before ending at 180 BPM. Methinks that if there's a Hime Trance Speed 2, a good chunk of the second half will be repeated.
Sales have been decent so far, though from what I can tell it's tracking slightly below Hime Trance Speed. I certainly hope sales improve so that we can guarantee a sequel. EMI are pretty much out of anime songs to repeat, so a potential sequel would be 100% new material.
Order at CDJapan. First-press copies come with stickers, but all copies will come with a lyrics booklet.
Full track-by-track review after the jump.
01. Gake no Ue no Ponyo / Gavin feat. Aya with Jagaimo Koushaku
Ponyo Ponyo Ponyo sakana no ko… Aya's voice is perfect for this song since she sounds just like a little girl. Gavin also closely matches the original male vocals. Of course, Dank-One is once again behind the whole thing, so it ends up sounding somewhat similar to previous ari/Aya songs.
02. Aozora no Namida / Delaction feat. Chika
Very similar to "Eternal Blaze," right down to that high-pitched, flute-like synth that Delaction have been infatuated with lately. Unsurprisingly, the transition into "Eternal Blaze" is perfect.
03. Eternal Blaze / Tsukasa
Essentially the same as the Tsukasa Mix edit.
04. Tamashii no Refrain / Overhead Champion feat. Mepomi.
I'm still on the fence on this one. It's surprisingly "harder" than what I usually expect from OHC, though I suppose a good comparison would be OHC's own "Beat!" What really concerns me is Mepomi. She has a full, deep voice that's similar to mint's, but her voice sounds way off on this song. It's not the worst cover ever — none of Quake's attempts have been particularly good — but the odd vocals drag it down.
05. Secret Ambition / Mina feat. mint
A straight trance cover with no real added flourishes. As always, mint's voice is a refreshing reprieve from the usual high-pitched, cute vocals.
06. Zankoku na Tenshi no These / mint
Much shorter than it was on Hime Trance Best, with only one verse.
07. Re-sublimity / DJ Hosaka feat. Mepomi.
Some nice 8-bit sounds. Thankfully, Mepomi also sounds much better in this song, which makes me wonder what the heck happened with "Tamashii no Refrain."
08. Red fraction / CMS feat. mint
Absolutely brilliant. Unlike most of the other songs on the album, this one is sort of psychedelic trance, with a harder edge and liberal use of electric guitars. Meanwhile, mint's vocals are powerful and perfectly match the aggressiveness of the song. I should also mention that while Quake's version actually had intelligible lyrics, mint's version more closely resembles the original by being full of completely nonsensical Engrish. Probably my favorite song on the album.
09. Sousei no Aquarion / Dank-One feat. ari
From my favorite song to my least favorite. "Sousei no Aquarion" is easily weakest song on the album. Dank-One does a great job as usual, but ari's voice just wasn't made for a song like this.
10. Happy*Material / Hinax
Hinax is new to the Hime Trance scene and has a very cute voice. "Happy*Material" happens to be a cute song, so Hinax is a perfect match.
11. Ginga Tetsudou 999 / Tsukasa
Another fun, bouncy song. Although not labeled, this is definitely a Spacey vs. garamonn remix, and it's the best one yet. I also think Tsukasa's English is getting a little better, because I could actually understand the chorus!
12. Komm, susser Tod ~ Amaiki Shiyo, Kitare / Florence
One of the best songs to come out of Quake's Speed Anime Trance Best series. EMI will often license horrible songs from Quake (Spaghettini's "Carlito," anyone?), but they struck gold this time.
13. God Knows… / Kei
Almost exactly the same length as the version on Hime Trance Speed.
14. Sorairo Days / Delaction feat. Chika
Much shorter than its Hime Trance Speed edit. However, it does include a previously unheard intro.
15. Datte Dai Honmei / ari
"Datte Dai Honmei" is a surprisingly fast 162 BPM and sounds like Dank-One doing his best impression of Delaction. It also has the distinction of being one of the few anime songs that Quake haven't covered yet.
16. Shichiten Hakki*Shijou Shugi! / Delaction feat. Chika
The speed continues with this 166 BPM song. Very upbeat and happy. What else would you expect from Delaction?
17. Hare Hare Yukai / Redalice feat. Hinax
Not nearly as crazy as Redalice's "Motteke! Sailor Fuku" remix, but still really solid J-core. I hope Hime Trance Speed 2 will come out eventually, and that it'll be full of Redalice.
18. Iteza*Gogo Kuji Don't be late / B.R.G. feat. Missie
This isn't trance in the least. It does have a fast (~166 BPM) dance beat and possibly a synthesized bassline, but for the most part it's performed with real instruments. Guitars are at the forefront with string instruments also playing important roles. It's very well done, and although it's not trance, it makes a welcome addition to the album.
19. Realize / SP Show*Hey? feat. Ichiko
A repeat from Hime Trance Speed.
20. Joint / Kei
At a blazing fast 180 BPM, the non-stop mix ends with a bang! With the primary focus on guitars, I'm not sure if this would technically qualify as trance, but it's amazing nonetheless.
21. Lion / Kei
Now that I think about it, none of the Kei songs on Anime*Mix! are really trance, yet they're all incredible. Once again, there's a heavy emphasis on guitars and strings, actually making it quite similar to the original. One big difference is that "Lion" was originally a duet, but Kei sings it solo except for the choruses, where her vocals are doubled for a duet effect. In any case, it's a great, mellow (at least compared to "Joint") way to end the album.