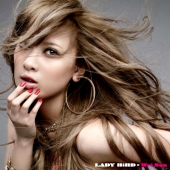 Sweet Song (CD+DVD Single)
Sweet Song (CD Single)
Artist: Lady Bird feat. Wei Son
Release Date: 2/25/09
Price: 1300 yen (CD+DVD) or 1000 yen (CD Only)
DJ Ten does house! Lady Bird is a duo composed of DJ Ten and frequent collaborator Kazuhisa Hirota, better known as Spiral Dirt/Ace Closer/Floorbreaker/Cannon Cracker. They released a mini-album in late 2007, but "Sweet Song" will be their debut with a major label. Featuring Wei Son from Popteen Magazine, "Sweet Song" is a catchy dance-pop tune that's already attracting a lot of attention in Japan. It's different than most of the songs produced by DJ Ten and Ace Closer in the past, that's for sure.
You can hear a sample of the song plus view a preview video on the Lady Bird Official Website.
Also included on the single will be a trance (hopefully) remix by the one and only DJ Kaya. There'll also be a "Lady Bird Club Mix" which may or may not feature the classic DJ Ten + Spiral Dirt sound.
01. [4:58] Sweet Song
02. [3:55] Bitter Chocolate
03. [5:28] Sweet Song (DJ Kaya Remix)
04. [6:14] Sweet Song (Lady Bird Club Mix)
05. [4:56] Sweet Song (Inst)
06. [3:54] Bitter Chocolate (Inst)
DVD
01. Sweet Song (Music Clip)
02. Bitter Chocolate (Live Clip)
03. Bitter Chocolate (Documentary Clip)
04. Bonus Clip
Order at CDJapan.