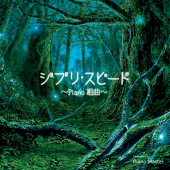 Ghibli*Speed ~Piano Kumikyoku~
Artist: Piano Master
Release Date: 4/3/09
Price: 2190 yen
The only thing seemingly more popular than anime dance compilations are piano house compilations, so why not combine both for a piano anime dance house compilation? Throw in some Ghibli and you've got a recipe for success.
01. Kimi o Nosete
02. Umi no Mieru Machi
03. Mononoke Hime
04. Kaze no Toori Michi
05. Jinsei no Merry-Go-Round
06. Sekai no Yakusoku
07. Itsumo Nando Demo
08. Marco to Gina no Theme
09. Teru no Uta
10. Oumu Tono Kouryuu
11. Kaze no Tani no Nausicaä
12. Take Me Home Country Roads
13. Tonari no Totoro
14. Sampo
15. Gake no Ue no Ponyo
Pre-order at CDJapan.