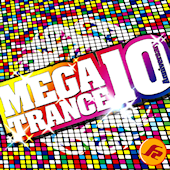 Mega Trance 10 Anniversary
Release Date: 5/27/09
Price: 2362 yen
FARM will celebrate the 5th anniversary of Mega Trance with a special 2-disc release. Disc 1 will feature the latest songs and remixes, while disc will compile the very best of DJ U*Hey? Expect brand new Saifam remixes, as well as remixes of tracks by the likes of Charlie and Groove Coverage. Early list and analysis after the jump.
DJ Tora! It's been a while since we've last heard from him, so it's exciting to see him back, mixing Saifam no less! Delaction also return with a new remix of Groove Coverage's "7 Years and 50 Days." The song is rather old, but it's Delaction so we all know it'll turn out well.
Also of note is a new remix of "He's a Pirtate." Actually, I'm not entirely sure why they they're crediting Captain Hook. The song had no vocals so I imagine any remix would be almost entirely original.
Aside from Keen, the track list for the first disc is looking very good so far. There are supposed to be a total of 18 tracks on disc 1, so assuming all of the tracks make it, there are at least 5 tracks left to be revealed. Let's just pray that none of them will be piano house or b-boy.
Meanwhile, disc 2 is scheduled to be a DJ U*Hey? best-of album. It'll be nice to have all of his songs compiled in one place, but I do hope for new songs or remixes.
Disc 1
01. Hurry Home (DJ U*Hey? Remix) / Charlie
02. Ima Kono Toki Dake / Shin Yoshimune Soundtrack
03. Viva la Vida (U&M Mix) / Dance Music Company
04. 20th Century Boys / GMS
05. New Title / DJ U*Hey?
06. He's a Pirate (TB vs. Akai Mix) / Captain Hook
07. Noma Night! / Karateka Irie
08. G-Kill / DJ Joker vs. Heavens Wire
09. Smells Like Teen Spirit (DJ Tora Remix) / One Nation
10. 7 Years and 50 Days (Delaction Remix) / Groove Coverage
11. Heaven / DJ Kaya feat. Keen
12. Gake no Ue no Ponyo (Akai Suisei Mix) / Animeking feat. Caoli
13. Undecided / Tsukasa
Disc 2 – DJ U*Hey? Best
01. K.O. / DJ U*Hey?
02. TKO / DJ U*Hey?
03. Warrior / DJ U*Hey?
04. Survivor / DJ U*Hey? vs. DJ Minagawa
05. Stars / DJ U*Hey?
06. Layla / DJ U*Hey? vs. DJ Minagawa
07. Eye of the Tiger / Texas Boys feat. Suck Man
08. No Way Out / DJ U*Hey? vs. DJ Minagawa
09. You / DJ U*Hey?
10. Sunset / DJ U*Hey? vs. DJ Minagawa
11. Grand Slam / DJ U*Hey?
Pre-order at CDJapan.