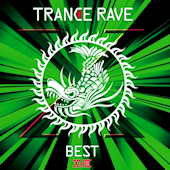 Trance Rave Best XVIII
Release Date: 6/24/09
Price: 1900 yen
Mostly Quake repeats. In fact, track 7 already appeared on TRB 17!
That said, Victor made good on their promise to include original tracks from Japanese DJs. We've got a new, original Delaction track as well a new track from Los Hermanos. The previously unknown DJ Kenny also makes his TRB debut.
Really good stuff. I hope we get to hear more from DJ Kenny in the future.
01. Over the Moon (Extended Mix) / Dream Dance Alliance
02. Forever (Original Vocal Mix) / Smith & Pledger
03. Delicious Dreamer (Aerodynamic Club Mix) / Trancedellic
04. Velvet Rain (Sunstorm Extended) / Maaya
05. A Life So Changed (Talla 2XLC vs. Ace da Brain Remix) / Soulcry
06. Alone (Kasuma Vocal Mix) / Kay Stone
07. Eternity (Phalanx Vocal Mix) / Krystal
08. Land of Fantasy / Mainfield
09. Euphoria (Extended Vocal Mix) / Van Nilson
10. The Legacy (Alphazone Remix) / Funabashi
11. Spiritualized (Basswizzards Remix) / JS Ten
12. Reborn (Phalanx Remix) / Allison
13. Sandra's Song (DJ Space Raven Mix) / DJ Space Raven vs. Wavetraxx
14. Energy (Megara vs. DJ Lee Remix) / Cave & Prey
15. Imagine Yourself (Megara vs. DJ Lee Remix) / Powerface
16. Medicine (Club Mix) / Van der Karsten
17. Paradise (Original Mix) / Thomas Petersen vs. Gainworx
18. The Rush (Original Club Mix) / Accuface
19. Embracin Sunlight (DJ Space Raven vs. Mat Silver Remix) / Lisaya vs. Thomas Petersen
20. Independent World (Technical Mix) / Los Hermanos
21. Blue Force (Aoi Kikoushi Mix) / DJ Kenny
22. Valeria / Delaction
23. Trance Mission (Overhead Champion Remix) / Ben Reynolds
24. Wake Up the World (DJ Yoshinori Remix) / La Palma feat. Love Mark
Pre-order at CDJapan