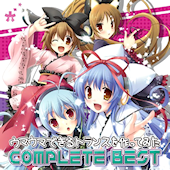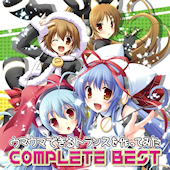 Exit Trance presents UmaUma Dekiru Trance wo Tsukutte Mita Complete Best
Release Date: 7/15/09
Price: 2667 yen (Regular Edition) or 2857 yen (Limited Edition)
Oh, bloody hell. "Caramelldansen (Speedycake Remix)" again?! You'd think that Quake would commission a new remix for this special release, or at least use a remix that hasn't already appeared a hundred times.
The album cover on the left is for the regular edition, while the one on the right is for the limited. The limited edition of the album comes with a special figure of "Miko Barusa." Miko is apparently the name of the blue-haired character who was on the cover of the first two albums. Put the name in the traditional Japanese order and you get "barusamiko," which I take it is a reference to a Nico Nico meme involving balsamic vinegar. Cute. The limited edition will be limited to only 20,000 copies. Meanwhile, the regular version comes with one trading card out of four total.
We won't know until the album is out exactly which tracks feature new vocals or remixes, but I took a guess based on the artist names.
Blue = UmaUma Trance 1
Yellow = UmaUma Trance 2
Red = UmaUma Trance 3
Orange = UmaUma Trance 4
Green = UmaUma Trance 5
Black = New Track
01. Caramelldansen (Speedycake Remix) / Caramell
02. Analoguma no Uta / Starving Trancer vs. Hommarju
03. Roshin Yuukai / Helvetia
04. Agent Yoru o Ouku / B.U.S. feat. Maki (New Vocals/Remix)
05. Ora Tokyo sa Iguda / nordloid
06. Go My Way!! / DJ Kiyoshi vs Reiko feat. Maki (New Vocals/Remix)
07. Love & Joy / Hommarju feat. Camry
08. Do-Dai / Acid=Stone Valley feat. Maki
09. Kokoro Odoru / Acid=Stone Valley feat. Takanori
10. Caipirinha / Carinho
11. Miku Miku ni Shite Ageru [Shiteyanyo] / MicH
12. Ningen-tte Ii na / Ryu* feat. Boukaloid
13. Kimi no Tame Nara Shineru / Hommarju feat. Thunder Ace
14. Dai Mahou Touge / B.U.S. feat. Maki
15. Uninstall / Laser Beam
16. Danjo / Sensei
17. Let's Go! Onmyouji / She Knee Tie (New Vocals/Remix)
18. Aitsu Koso ga Tennis no Ouji-sama / Prince
19. Sousei no Aquarion / Delaction feat. Maki
20. Balalaika / Yaramaika
21. Seikan Hikou / Maki
22. Ievan Polkka / Black Man
23. Konna ni Chikaku de… / Starving Trancer feat. Maki
24. Be Myself / B.U.S. feat. Maki
25. Romeo to Juliet / Dizzi Mystica
26. Perfect Star Perfect Style / Maki
27. Kurutto?Mawatte?Ikkaiten / MicH
28. promise / B.U.S. feat. Maki
29. Otome yo Taishi wo Dake!! / Icon feat. Camry
30. Airman ga Taosenai / Ryu* feat. zaki
Pre-order the limited edition or the regular edition at CDJapan.