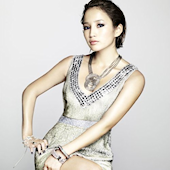 Kitto…Sayonara (CD+DVD Single)
Kitto…Sayonara (CD Single)
Artist: Lady Bird feat. Sara
Release Date: 8/26/09
Price: 1300 yen (CD+DVD) or 1000 yen (CD Only)
Lady Bird, composed of DJ Ten and Ace Closer, made a huge splash with their debut single featuring Son Wei, "Sweet Song." Immediately afterward, they held auditions looking for a new vocalist and ended up choosing the 18-year-old Sara. No idea if the song will be another up-tempo dance track, but here's hoping DJ Kaya returns with another fantastic remix.
CD
01. Kitto…Sayonara
02. Aisuruhitoni Aisaretai
03. Kitto…Sayonara (Instrumental)
04. Aisuruhitoni Aisaretai (Instrumental)
DVD
01. Kitto…Sayonara (Music Clip)
Pre-order at CDJapan.