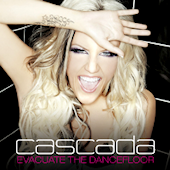 Evacuate the Dancefloor
Artist: Cascda
Release Date: 10/21/09
Price: 2000 yen
The Japanese edition of Cascada's third album comes out this October. There'll be four bonus tracks, including new remixes by DJ Uto and DJ Yoshinori.
Update! Looks like DJ Uto and DJ Yoshinori won't be appearing after all. 🙁
01. Evacuate the Dancefloor
02. Hold On
03. Everytime I Hear Your Name
04. Ready or Not
05. Fever
06. Hold Your Hands Up
07. Breathless
08. Dangerous
09. Why You Had to Leave
10. What About Me
11. Draw the Line (Yanou's Candlelight Mix)
Bonus Tracks
12. Faded (Wideboys Electro Radio Edit)
13. Evacuate the Dancefloor (Ultrabeat Radio edit)
14. Bonus Track
15. Bonus Track
Pre-order at CDJapan.