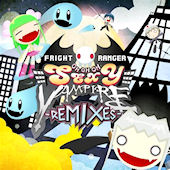 Oh Oh Oh Sexy Vampire -Remixes-
Release Date: 10/09
Price: $5.94
In hindsight it probably would've been more apropos had I posted this yesterday. In any case, Disko Warp Music have released a new digital single featuring new remixes of one of their biggest hits to date, "Oh Oh Oh Sexy Vampire."
The highlight of the album is easily Ricardo Autobahn's rocking trance remix. Coming in at a steady 140 BPM, the remix has great trance synths that suit the melody quite well. Ricardo is best known to Dancemania fans as a member of the duo, Rikki & Daz. I'll let you figure out which one he was. 😛
The Chris Jay mix is the slowest one, coming in at 128 BPM. 80's eurodance fans will love it, however, as it borrows heavily from the PWL sound.
Speed remixes are supplied by Cusimo & Co. and Initial P, while eurobeat fans wills be pleased with the Magic Hammer 'til Death mix (gotta love that disco break). Lastly, there's an 8-bit chiptune remix from Kid Whatever.
Samples are available at the newly redesigned Disko Warp website. The single is available on Amazon and iTunes.
01. Oh Oh Oh Sexy Vampire (Ricardo Autobahn Extended Mix)
02. Oh Oh Oh Sexy Vampire (Cusimo & Co. Speedy Mix)
03. Oh Oh Oh Sexy Vampire (Magic Hammer 'til Death Mix)
04. Oh Oh Oh Sexy Vampire (Chris Jay Extended Mix)
05. Oh Oh Oh Sexy Vampire (Secret Laboratory Remix By Kid Whatever)
06. Oh Oh Oh Sexy Vampire (Initial P Bootleg)