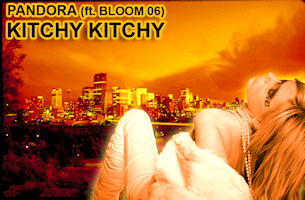 Kitchy Kitchy (Single)
Artist: Pandora feat. Bloom 06
Release Date: 3/16/10
Pandora's label released a "Kitchy Kitchy" as a single track download late last year and it's been so long since then that I assumed they'd never release remixes. Thankfully, 2010 finally brings a set of dance remixes, including a fantastic remix by Bloom 06. United Forces also contribute a couple of fun remixes. I'm fairly sure it's not the same United Forces associated with Viverus Studios, but I could be wrong.
Samples can be found here: http://peoplesmusicstore.com/catalogue_items/588974. According to Pandora's website, the remix single should be out on iTunes worldwide soon.
01. [3:12] Kitchy Kitchy (Radio Edit)
02. [5:59] Kitchy Kitchy (Bloom 06 Remix)
03. [3:53] Kitchy Kitchy (United Forces E-Mix)
04. [3:14] Kitchy Kitchy (United Forces R&B Remix)
05. [5:33] Kitchy Kitchy (Playmaker's Remix)