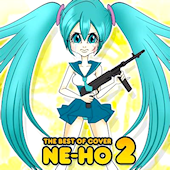 The Best of Cover Ne-Ho 2
Artist: Ne-Ho
Release Date: 4/7/10
Price: 1886 yen
The first Cover Ne-Ho release sold pretty well for FARM, so it's no surprise that they're releasing a sequel. At least Sousei and Zankoku are already out of the way, so he can take on some slightly less overused songs.
01. Let's Go! Onmyouji
02. Ora Tokyo sa Iguda
03. Go My Way
04. Agape
05. Shuuketsu no Sono e
06. Hajimete no Chuu
07. come
08. Ya·Ku·So·Ku (Euro Ver)
09. Shin Ai
Pre-order at CDJapan.