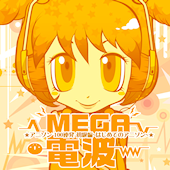 Anison 100 Renpatsu Mega Denpa ww Shokyuu Hen ~Hajimete no Anison~
Release Date: 10/15/09
Price: 1905 yen (CD) or 1500 yen (iTunes)
Oh boy, how does one even begin to explain this series? I think Denpa no Sekai explains it better than I ever could:
Yokohama-based @n-Guilla Sounds and their intense project ????ww (Mega Denpa Ha Ha!) is something that definitely deserves your attention. Between October 2009 and July 2010, the new circle/group/label will be releasing one 10-song album per month, for a total of 100 songs in 10 months!
The schedule has been thrown off a bit, so don't expect them to release all 10 albums by July 2010. But yeah, they're planning on doing 100 anime song remixes, with genres ranging from Happy Hardcore to Eurobeat to House to Rock to Jazz to… well, you get the point. Each album's song selection will be based on a particular theme. The theme of this first release, according to the subtitle, is "Elementary Level Compilation ~ My First Anime Song."
01. [3:16] Boku Doraemon (Yuuyake Happy Core Mix) / Monalina
02. [3:03] Dedekoi Tobikiri Zenkai Power (Pikopiko Bazooka Mix) / Saira
03. [3:05] Moonlight Densetsu (Heavey Metal Lingerie Mix) / Monalina
04. [3:53] Hohoemi no Bakudan (House the Punch Mix) / P*B-Rw
05. [3:53] Sarah (Uruoi×25 Mix) / Saira
06. [3:17] Believe (Shining GR Mix) / Mircrepe
07. [3:14] Pegasus Fantasy (Hoshizora ParaPara Mix) / Maririn
08. [3:40] Hashire Shoujikimono (Yuugure Misaki Koi Shigure Mix) / Mikaminjero
09. [3:41] Give a Reason (Kousoku Sange no Kai Mix) / Monalina
10. [2:17] Oshiete (Gensou Destruction Mix) / Monalina
Order at HMV Japan or download from iTunes Japan.