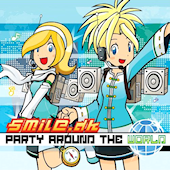 Party Around the World ~Nico Nico dk ga Yattekitaaaaaa~
Release Date: 7/21/10
Price: 2405 yen
Party Around the World finally gets a Japanese release almost two years after it originally came out. Oddly, the Almighty mix of "Heal My Broken Heart" has been replaced with the new United Forces version of "Butterfly." There should be enough room on the CD for both, though, and I'm still hoping for more bonus mixes.
Update! CDJapan's description mentions that there'll also be trance and eurobeat versions of "Butterfly," for a total of 15 tracks.
01. Doki Doki
02. Japanese Boy
03. Temptation Islands
04. Nothing's Missing (For Once in My Life) (feat. Lasse Wellander)
05. Koko Soko
06. Summer Party
07. It's in Your Melody
08. Chicks Tricks
09. Hummingbird
10. Paradise
11. Tomoe
12. Around the World
13. Butterfly (New Version)
Pre-order at CDJapan.