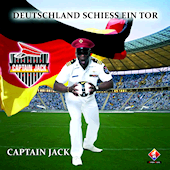 Deutschland Schiess ein Tor (Single)
Artist: Captain Jack
Release Date: Spring 2010
Captain Jack is back with a new single celebrating Germany and the World Cup. The title translates to "Germany Shoots a Goal." Not a bad song, really. I'm especially fond of the Dance Mix, though it's strangely absent from download sites. Maybe it's exclusive to the Maxi CD?
01. [3:27] Deutschland Schiess ein Tor (Radio Mix)
02. [3:25] Deutschland Schiess ein Tor (Stadion Mix)
03. [3:27] Deutschland Schiess ein Tor (Instrumental Mix)
04. [2:40] Deutschland Schiess ein Tor (TV Mix)
05. Deutschland Schiess ein Tor (Dance Mix)