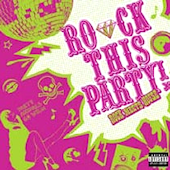 Rock This Party! -Rock meets House-
Release Date: 7/14/10
Price: 2095 yen
This second release in the Rock This Party series features more house covers of "rock" songs.
01. Not Myself Tonight (Christina Aguilera)
02. Whataya Want from Me (Adam Lambert)
03. Blah Blah Blah (Ke$ha)
04. 3 (Britney Spears)
05. Today was a fairytale (Taylor Swift)
06. Party in the USA (Miley Cyrus)
07. Hey, Soul Sister (Train)
08. Waking Up in Vegas (Katy Perry)
09. Fallin' for you (Colbie Caillat)
10. Give It to Me (Madonna)
11. Taking Chances (Celine Dion)
12. Basket Case (Charile)
13. Million Dollar Bill (Whitney Houston)
14. Let It Rock (Kevin Rudolf)
Pre-order at CDJapan.