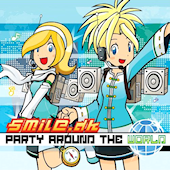 Party Around the World ~Nico Nico.dk ga Yattekitaaaaaa~
Release Date: 7/21/10
Price: 2405 yen
Party Around the World finally gets a Japanese release courtesy of Dreamusic, and they went all out for it. In addition to the first-ever release of "Butterfly '09" on a physical CD, the Japanese edition also includes two, new bonus remixes of "Koko Soko"!! Orange Summer, who previously did a remix of "Boys" for Hime Trance 2, provides a trance remix. Meanwhile, Akiba Koubou give the track a Japanese eurobeat remix. Samples can be found at Dreamusic's special Smile.dk website: http://www.dreamusic.co.jp/sp/smile_dk/
Billed as the "Koko, Soko, Asoko!! Song," Smile.dk's "Koko Soko" is making waves in Japan. It's currently sitting at number 17 on the ZIP-FM Dance Charts and will no doubt move up even more in following weeks. Dreamusic have even put up a music video of sorts:
Oh, and even though the early list didn't have "Heal My Broken Heart" listed, it is indeed on the final track list.
01. [3:08] Doki Doki
02. [3:21] Japanese Boy
03. [3:39] Temptation Islands
04. [4:12] Nothing's Missing (For Once in My Life) (feat. Lasse Wellander)
05. [3:07] Koko Soko
06. [3:15] Summer Party
07. [3:34] It's in Your Melody
08. [3:03] Chicks Tricks
09. [3:32] Hummingbird
10. [3:27] Paradise
11. [3:11] Tomoe
12. [3:03] Around the World
Bonus Track
13. [6:30] Heal My Broken Heart (Almighty Definitive Mix)
Japan Only Bonus Tracks
13. [3:09] Butterfly (United Forces Airplay Edit)
15. [5:32] Koko Soko (Orange Summer Trance Remix)
16. [3:21] Koko Soko (Akiba Koubou Eurobeat Remix)
Pre-order at CDJapan.