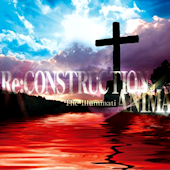 Re:Construction Anima
Artist: The Illuminati
Release Date: 10/21/09
Price: 2286 yen
From the makers of Piano Master and the Anime Nitro series comes this Evangelion cover CD. The songs are done in a jazzy piano house style, and include vocals when appropriate. You can listen to samples on iTunes Japan.
01. Kanon-D-Dur
02. Komm, susser Tod ~ Amaiki Shiyo, Kitare
03. Zankoku na Tenshi no These
04. Shuuketsu no Sono e
05. Jikai Yokoku
06. Tamashii no Refrain
07. The BeastII
08. Kokoro yo Genshi ni Modore
09. Fly Me to the Moon
10. Thanatos – if I can't Be Yours
11. Jesu, Joy of Man's Desiring
Pre-order at CDJapan.