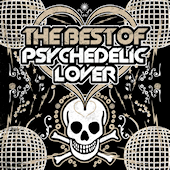 The Best of Psychedelic Lover
Release Date: 12/8/10
Price: 2381 yen
The Best of Psychedelic lover features 25 of the greatest psychedelic trance hits spread across two discs. The first disc is pure psychedelic, while the second disc focuses more on electro. Neither of the discs is non-stop mixed, so you'll be getting full versions here.
Disc 1
01. 20th Century Boy (InterSys Rmx) / REW
02. High Paradise (Sesto Sento Remix) / 1200 Micrograms
03. Shut Up and Dance / Space Cat vs. Perplex vs. REW ft. Michele Adamson
04. Love Is Gone / Gataplex vs. Space Cat
05. Lift Me Up (Final Vocal Rmx) / Sesto Sento
06. Time to Get Serious (Japan Mix) / Eskimo vs. Dynamic
07. Clear Test Signal (Space Cat Remix) / Space Cat vs. Pixel
08. Ghost n Stuff / XSI
09. Swich Back (Growling Machines Rmx) / Celldweller
10. Planet Domination / Bizzare Contact vs. Electro Sun
11. Melodica / Cosmic Tone
12. Closer to Heaven (Pixel Remix) / Astrix feat. Michele Adamson
13. Psychedelic Lover (DNA Remix) / GMS vs. Perplex
14. Shokata (GMS Remix) / Alien vs. The Cat
15. New World Order Part III / Atomic Pulese
Disc 2
01. Fight Fire / Tim Healey vs. Tom Bellamy
02. Exceeder (Felugk Remix) / Mason
03. Let It Move You / Tim Healey vs. Pete Martin
04. Let You Down (Phunkk Mob Dub Mix) / Hernandez vs. DJ Tyo
05. Drive Out (Thomas Gold & Francesco Diaz Mix) / Sunfreakz
06. I Can't Help Myself (Jason Rooney Dub) / Bellatrax feat. Sophia May
07. Alive (PH Electro Remix) / Mondotek
08. On the Move / Dance Music Company
09. Make Your Own Kind Of Music (Raul Rincon Dub) / Muttonheads & Mathieu Bouthier aka Serial Crew
10. Longing Love (D.M.C Remix) / Texas Boys
Pre-order at CDJapan.