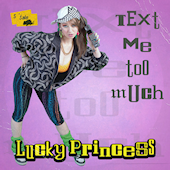 Text Me Too Much (Single)
Artist: Lucky Princess
Release Date: 4/19/11
Price: $2.99
Lucky Princess's follow-up to her debut single, "Deadbeat Boyfriend." TMTM is a hyper techno tune about the dangers of over-texting. I wasn't overly fond of Disko Warp's previous attempt at hyper techno on Speedisko 2, but this does a really good job of capturing the sound. Make sure to check out the music video, a nod to all sorts of early 90s atrocities:

The video edit can be found on iTunes, but you can get additional bonus tracks by buying the single at Bandcamp.
01. [3:14] Text Me Too Much (Disko Warp Video Edit)
02. [3:39] Text Me Too Much (Disko Warp Main Mix)
03. [3:38] Text Me Too Much (Pete's Battle Edit)
04. [3:14] Text Me Too Much (Disko Warp Karaoke Version)