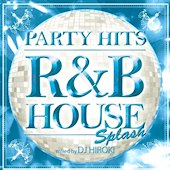 Party Hits ~R&B House~ Splash
Release Date: 6/8/11
Price: 1800 yen
Sequel to Party Hits ~R&B House~. The CD includes house covers of popular "R&B" tracks. Once again mixed by DJ Hiroki. All tracks are credited to Party Hits Project, so you won't have to worry about hearing Power Music covers again.
01. Intro (DJ Hiroki)
02. Yeah 3X (Chris Brown)
03. S&M (Rihanna)
04. Sweet Dreams (Beyonce)
05. Run This Town (Jay-Z feat. Rihanna)
06. In My Head (Jason DeRulo)
07. We R Who We R (Ke$ha)
08. Find Your Love (Drake)
09. Can't Be Tamed (Miley Cyrus)
10. Blow (Ke$ha)
11. Who's That Chick (David Guetta feat. Rihanna)
12. Bad Romance (Lady Gaga)
13. No Hands (Waka Flocka)
14. Crazy in Love (Beyonce)
15. Grenade (Bruno Mars)
16. What's My Name? (Rihanna feat. Drake)
17. Replay (Iyaz)
18. The Time (Dirty Bit) (Black Eyed Peas)
19. Poker Face (Lady Gaga)
20. Who Dat Girl (Flo Rida feat. Akon)
21. Hotel Room Service (Pitbull)
22. I Made It (Cash Money Heroes) (Kevin Rudolf feat. Birdman, Jay Sean and Lil Wayne)
23. Firework (Katy Perry)
24. Paparazzi (Lady Gaga)
25. Party in the U.S.A (Miley Cyrus)
26. I Gotta Feeling (Black Eyes Peas)
27. F**kin' Perfect (Perfect) (Pink)
28. Forget You (Cee Lo Green)
29. Closer (Ne-Yo)
30. Be On You (Flo Rida featuring Ne-Yo)
31. Oh Africa (Akon feat. Keri Hilson)
32. Stereo Love (Edward Maya & Vika Jigulina)
33. What the Hell (Avril Lavigne)
34. Magic / BOB feat. Rivers Cuomo
35. Empire State of Mind (Jay-Z and Alicia Keys)
Pre-order at CDJapan.