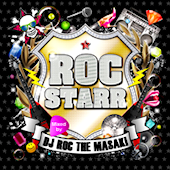 Roc Starr mixed by DJ Roc the Masaki
Release Date: 8/3/11
Price: 1800 yen
Hmm, I thought these would be rock covers based on the title and the DJ, but most of the songs sound close to the originals. Mixed by DJ Roc the Masaki.
01. Intro Megamix
02. Basket Case
03. 20th Century Boy
04. Twilight
05. Viva la Vida
06. Video Killed the Radio Star
07. Trouble
08. Are You Gonna Go My Way
09. Great DJ
10. Girls Just Want to Have Fun
11. The Never Ending Story
12. Low Rider
13. My Sharona
14. Mickey
15. Interlude Megamix
16. By the Way
17. Smells Like Teen Spirit
18. The Power of Love
19. Centerfold
20. Eye of the Tiger
21. Walk This Way
22. Numb, Encore
23. We Will Rock You
24. Wonderwall
25. Sunday Morning
Pre-order at CDJapan.