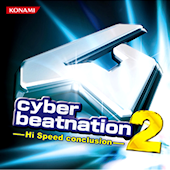 cyber beatnation 2 -Hi Speed conclusion-
Release Date: 12/7/11
Price: 2381 yen
Sequel to the 2005 album featuring new remixes of Beatmania songs. This one essentially serves as yet another Ryu* album, however, considering that every track is either originally by Ryu* or remixed by him. Guest remixers include kors k, Hommarju, DJ Shimamura, REDALiCE, and JAKAZiD.
The album is available exclusively at Konami Style, so you'll have to order it through a middleman if you're outside of Japan. CDJapan has a special request service, but the commission fee starts at 1,500 yen. Another potentially cheaper option is Otokichi, who charges a nonrefundable request fee of 500 yen plus an additional commission fee of 500 yen for up to a 5000 yen order. Finally, VGM World is also known to take special orders, though I don't know how much they'll charge for this.
01. Mermaid girl (Ryu* Remix) / Cream puff
02. Second Heaven (Risk Junk Remix) / Ryu*
03. Flower (Ryu* Remix) / DJ Yoshitaka
04. I'm so Happy / Ryu* feat. Lucky Vacuum
05. Mind Mapping (kors k mix) / Ryu*
06. Fly Above (Ryu* Remix) / Sota Fujimori
07. Follow Tomorrow (L.E.D.-G Style Mix) / HHH×MM×ST
08. SigSig (Ryu* Remix) / kors k
09. Ignited Night (REDALiCE Remix) / HHH
10. Absolute (Ryu Remix) / dj TAKA
11. waxing and wanding (JAKAZiD's Shingetsu Remix) / Seiryuu
12. bass 2 bass (dj Max Steroid Remix) / Ryu*
13. Koisuru*Uchuu Sensou!! (Ryu Remix) / Prim
14. Sakura Reflection (DJ Shimamura Remix) / Ryu*
15. starmine (Hommarju Remix) / Ryu*
16. Thunderbolt (Extended ver.) / Seiryuu