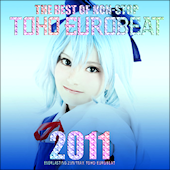 The Best of Non-Stop Toho Eurobeat 2011
Release Date: 12/30/11
Price: 1400 yen
Doujin release featuring eurobeat covers of popular touhou songs. Avex's recent penchant for non-stop mixes seems to have infected A-One Records as well, as this release will be a non-stop mix featuring 20 songs from TEB Vol. 1-4. No word yet on the tracklist, but the album will be available at Comiket 81. Those in attendance will also receive a limited 2012 Toho Eurobeat calendar.