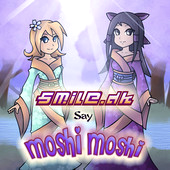 Moshi Moshi (Single)
Artist: Smile.dk
Release Date: 12/16/11
Moshi moshi! The new Smile.dk is finally out on Swedish iTunes, and you can also hear a snippet on their official website. Cecilia sounds lovely, as does Veronica as usual. The best part is that it's not a simple "Butterfly" retread, which was my biggest fear. No word yet on when it will appear on US iTunes, or if we'll get any remixes, but 2012 is definitely looking like it'll be an exciting year for Smile.dk fans.
01. [2:53] Moshi Moshi