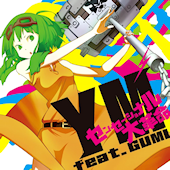 Sensantional Dai Kakumei
Artist: YM feat. Gumi
Release Date: 2/15/12
Price: 1905 yen
First album from YM feat. Gumi. There's a preview video up on the Exit Tunes website: http://exittunes.com/cd/exit_tunes/qwce00218.html. Bonuses include a strap, clear file, and poster.
01. Juu Mensou
02. No nai Denpa
03. Over Technology
04. Hankou Seimei
05. Raison d'Etre Choudai
06. Hinekureta Simple
07. Mikansei Ningen
08. Koukan Note
09. Aohasusume
10. Koko Hore Wanwan
11. Sekai wa Boku o Chuushin ni Maware
12. Dear MAMA
13. Shinsou Noisy
14. Sensational (Shinkyoku)
15. Taihen Hentaider (Shinkyoku)
16. Metasequoia (Shinkyoku)
17. Fuzz Mind (Shinkyoku)
Pre-order at CDJapan.