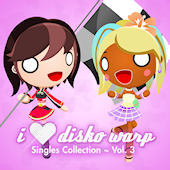 I Love Disko Warp ~ Singles Collection Vol. 3
Release Date: 2/10/12
Price: Name Your Price
I've been posting all week about Disko Warp releases that you can't get at Bandcamp, so for a change here's something you actually can get there. 😀 The third volume in the I Love Disko Warp series collects their hit singles from the past year. It's a Bandcamp exclusive, so you can pay what you want for the entire album.
Is that a race queen and gyaru on the cover? Should I be concerned that I even know those terms to begin with?
01. [3:36] U.F.O. Catcher / Initial P
02. [3:25] I Wanna Be a Ninja / Becky
03. [3:47] Pussy Game (Disko Warp Speedy Mix) / Bonnie Maxx
04. [4:31] One Two Three (You Love Me) (Disko Warp Speedy Mix 2011) / Lydia Nurbs
05. [4:10] I Love You Goodbye (Disko Warp Main Mix) / Sonatia
06. [3:52] Diablo Girl / Vandalet
07. [3:58] Dumb Boys (2011 Speedisko Edit) / Becky
08. [5:18] Don't Don't Go Away (Ian K Remix) / Foxxie
09. [3:35] Fancy Pants / Kick & Punch
10. [4:35] Erotic Chemistry (Hyper Techno Version) / Vandalet