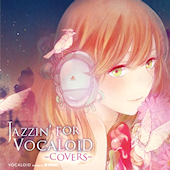 Jazzin' for Vocaloid ~covers~
Release Date: 2/15/12
Price: 1905 yen
Spiritual successor to 2008's Jazzin' for Ghibli, featuring jazz arrangements of Vocaloid songs. Established club singers will be providing the vocals. Visit the official website for more info. There are some very nice arrangements on here.
01. BadBye / Roomer a.k.a. Maru
02. Cyber Thunder Cider / Wasshy
03. Electric Love / Junko Ishikawa from elect-link
04. Netoge Haijin Sprechchor / MEG
05. Shineba Ii no ni / Ree-chang
06. E? Aa, sou. / Kudo 'D' Daisuke
07. Nenchaku Kei Danshi no 15 nen Nechinechi / Makki
08. Dance Floor / Ree-chang
09. Magical Neko Len Len / Ree-chang
10. Doubutsu Uranai / MEG
Pre-order at CDJapan.