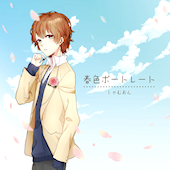 Haru Iro Portrait
Artist: Shamuon
Release Date: 3/21/12
Price: 1905 yen
First solo album from utaite, Shamuon. Also scheduled to feature duets with Soraru and Mi-chan. Bonuses include a cell phone strap (1 of 5 variations), mouse pad (1 of 6 variations), clear file, and poster.
01. Petenshi ga Warau Koro ni
02. E? Aa, sou. / Shamuon × Mi-chan
03. Kasou Kyoku
04. Iroha Uta
05. Ama no Jaku
06. virgin suicides
07. Kusare Gedou to Chocolate
08. Shinkai City Underground
Pre-order at CDJapan.