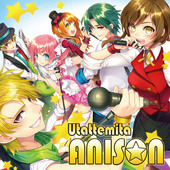 Utattemita Anison
Release Date: 3/7/12 ? 3/21/12
Price: 1905 yen
Delayed a few weeks, but cover art and final list have been revealed. The good news is that they somehow managed to forget to put "Zankoku" and "Sousei" on this. The bad news is that most of these songs have been done by Akiba Koubou before. The good news is that the description for the album mentions house, techno and trance arrangements, so there's a good chance that we'll at least get some new arrangements. The bad news is that Akiba Koubou are very lazy, and there's just as a good a chance that they'll use the songs straight from Anim80s and other albums.
For those wondering, "Nazo no Jinbutsu K" is better known to Hime Trance fans as Kei. It's just the pseudonym she uses for singing on Nico Nico.
01. Sobakasu / Priko
02. Yuzurenai Negai / Hanatan
03. Lupin Sansei no Theme / Kouhey
04. Cat's Eye / Usa
05. Tonari no Totoro / Usa
06. Moonlight Densetsu / Nazo no Jinbutsu K
07. Orange Mystery / yonji
08. Kimi ga Suki da to Sakebitai / Yamadan
09. Mazinger Z / Kouhey
10. Sorairo Days / Hanatan
11. Keikenchi Joushouchuu* / Ayumi Nomiya
12. Ai ga Hitoribocchi / Yuge
13. Makafushigi Adventure! / Yamadan
14. Che! Che! Che! / Ayumi Nomiya
15. Touch / Hanatan
16. Uchuu Senkan Yamato / Nodoame
17. Ai wo Torimodose / Kouhey
18. Ashita e no Toushi / Yuge
19. Hare Hare Yukai / Korosuke
20. Saikyou Pare Parade / Korosuke
Pre-order at CDJapan.