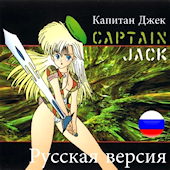 Captain Jack (Russian Edit 2012) (Single)
Artist: Captain Jack
Release Date: 3/23/12
New Russian edit of the classic Captain Jack song o_O The CJ parts are the same, but Liza da Costa has been replaced by a Russian female vocalist, and all her parts are now in Russian. The single also includes the epic 2010 Ace da Brain mix as well as the acoustic version.
Available on Amazon and Juno Download, among others.
01. [4:03] Captain Jack (DJ Fisum house remix)
02. [4:07] Captain Jack (Russian mix by Olga)
03. [4:01] Captain Jack 2010 (Ace da Brain remix)
04. [3:21] Captain Jack (acoustic mix)