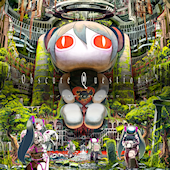 Obscure Questions
Artist: Pinocchio P
Release Date: 7/4/12
Price: 1905 yen
First major album from vocaloid producer, Pinnochi P. Features his biggest hits like "Kusare Gedou to Chocolate" as well as 3 new songs. Every song features Hatsune Miku on vocals.
Bonus items include a cell phone strap (1 of 3 designs), clear file, and B2 size poster. Samples and more info can be found on the official website.
01. Arifureta Sekai Seifuku
02. Bakemono Uchuu
03. Karappo no Manimani
04. Tamanegi
05. Omohide Shabadaba
06. Fireworks
07. Ponkotsu Tenshi
08. Jizemi in the Underground
09. Mushroom Mother
10. Psychedelic Smile
11. Love Song o Korosanai de
12. Suki Suki Suki Suki Suki Suki Suki Suki Suki
13. Vocaloid no Uta
14. Floating Shelter
15. Kusare Gedou to Chocolate
16. Doushite-chan no Theme
17. eight hundred
18. Fushigi no Kohana Saichi
19. Obscure Questions
Pre-order at CDJapan.