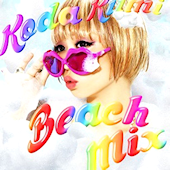 Beach Mix
Artist: Koda Kumi
Release Date: 8/8/12
Price: 2371 yen (CD+DVD Edition) or 1905 yen (CD Only Edition)
4 Skips? Floorbreaker?! Overhead Champion?!? Could it be the return of J-Trance? Sadly, no. Koda Kumi's latest remix album may have familiar J-Trance names, but the remixes are decidedly not trance. Instead, most of the remixes are house/electro or geared toward a beach crowd. Not necessarily bad, but a wasted opportunity to bring J-Trance back to the forefront. Visit the official website for samples and more info.
You can also buy the album on iTunes JP for 2400 yen. That's right, you'd be paying more for the digital version than you would for the CD. Stay classy, Avex. Although, to be fair, my understanding is that all iTunes releases are now DRM-free, 256Kbps AAC files.
CD
01. [3:36] Whatchu Waitin' On
02. [3:20] Ko-So-Ko-So (Prog5 Remix)
03. [2:44] Bling Bling Bling feat. Ak-69 (Electro Rave Allstars Remix)
04. [3:00] Hey baby! (Future House United Remix)
05. [2:54] V.I.P. feat. T-Pain (Sunset in Ibiza Remix)
06. [2:58] Pop Diva (Kozmr Remix Lucas Valentine)
07. [2:29] Be My Baby (4 Skips Remix)
08. [3:38] No Tricks (Shohei Matsumoto & Junichi Matsuda Remix)
09. [3:50] Heat feat. Megaryu (Reo Remix)
10. [2:22] Cutie Honey (Habanero Posse Remix)
11. [2:59] D.D.D. feat. Soulhead (Pink Chameleons Remix)
12. [3:06] Come With Me (Overhead Champion Remix)
13. [4:10] Twinkle (R-midwest Remix)
14. [3:20] Lick Me (Floorbreaker Remix)
15. [3:05] Cherry Girl (Sunset in Ibiza Remix)
16. [3:34] Taboo (Kozmr Remix Suguru Yamamoto™)
DVD
01. Whatchu Waitin' On? (Music Video)
02. Whatchu Waitin' On? (Making Video)
03. a-nation & Rhythm Nation Best Selection
Pre-order at CDJapan.