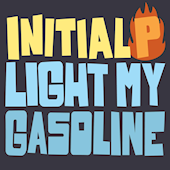 Light My Gasoline EP
Artist: Initial P
Release Date: 8/9/12
Price: $7.92
Brand new EP from Initial P featuring 3 original songs plus remixes for a total of 8 tracks. Guest vocalists include Laura Chick, J-Mi, and Vandalet. Also includes remixes by Francisco Gaitan and Doughboy.
The lead track is a fun eurobeat-ish song with some chiptune influences. I was hoping the lyrics would avoid the word "fire" and poke fun at the genre's tendency of overusing the word, but I guess it's not a eurobeat song unless every other word is rhymed with "fire". The second track is a more traditional hardcore remix. Meanwhile, Argentinian producer, Francisco Gaitan, provides a Hyper Techno remix and Doughboy offers up another fast-paced hardcore remix.
If all that wasn't enough, there's also a brand new hardcore track, "Me or Susan?" sung by J-Mi of J-Mi & Midi-D. The EP is rounded out by eurobeat and hyper techno remixes of "Crazy for Your Fire," which is sung by Vandalet (who previously collaborated on "Erotic Chemistry" and "Diablo Girl". The Hyper Techno version in particular is highly recommended. Pete has really gotten the sound down in recent years.
The EP is now up for sale on iTunes or Amazon MP3 for $7.92. Visit the official Disko Warp Facebook or Twitter for details on how to get a free download of the radio edit, available until Friday, August 17.
01. Light My Gasoline (feat. Laura Chick)
02. Light My Gasoline (feat. Laura Chick) (Initial P Hardcore Mix)
03. Me Or Susan? (feat. J-Mi)
04. Crazy For Your Fire (feat. Vandalet) (Eurobeat Version)
05. Crazy For Your Fire (feat. Vandalet) (Hyper Techno Version)
06. Light My Gasoline (feat. Laura Chick) (Francisco Gaitan Remix)
07. Light My Gasoline (feat. Laura Chick) (Doughboy Remix)
08. Light My Gasoline (feat. Laura Chick) (Radio Edit)