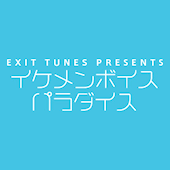 Exit Tunes presents Ikemen Voice Paradise 5
Release Date: 10/17/12
Price: 1905 yen
Fifth release in the Ikemen Voice Paradise series, featuring male utaite covering Vocaloid songs. First-press copies come with a bonus CD, cell phone strap, and mouse pad.
Solo
01. Kosho Yashiki Satsujin Jiken / Tenioha feat. Sekihan
02. Sherry -Remix- / Hybrid Sense feat. Sekihan
03. Setsuna Trip / Last Note. feat. Soraru
04. Yuugure Sensei / Ishiburo feat. Soraru
05. Domino Taosu / Scop feat. Shamuon
06. Maigo no Boku ni / Kei feat. Shamuon
07. Checkmate / Yucha P feat. Ryokun
08. Yoru ga Kureba mata / Kurage P feat. Ryokun
Collaboration
09. Remote Control / Jesus (Wonderful*Opportunity!) feat. Ryokun × Mafumafu
Pre-order at CDJapan.